Description
10 pack Urethane Regulator o-rings
This is one item that every paintball player needs to carry spares of! These high quality urethane O-rings work on all CO2 and HPA tanks
Some helpful tips to make your o-rings last longer:
- Put a very light coat of synthetic marker oil or grease on the o-ring periodically for a better seal and less friction.
- When removing your tank, do not simply unscrew the tank from the ASA. With all paint unloaded and barrel cover on, pull the trigger and cycle the marker while unscrewing the tank. This will bleed the pressure and prevent blowing the o-ring.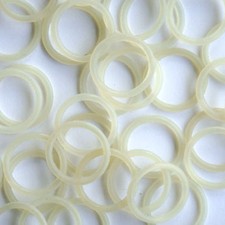 10x Paintball Gun CO2/AIR  Tank Urethane O-rings
They are top quality o-rings. Very durable.


Quantity:10-rings 
Material: Urethane